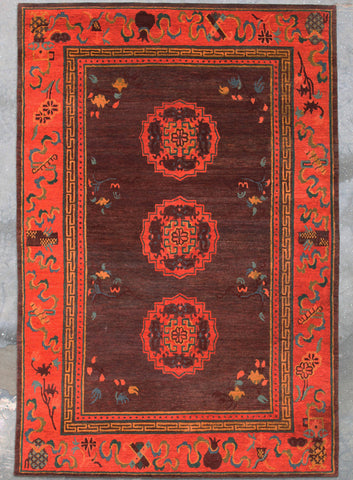 Traditional Tibetan (98-84), 4 x 6-1
About This Rug
This 100-knot (fine weave) Tibetan  is a traditional Tibetan design, hand knotted in Tibetan weave (see section on Tibetan rugs) using handspun wool and vegetal dyes. A glowing piece of natural-dye art for your floor! There are a limited number of these very special rugs available at any one time. We can have one custom-made for you in any size (approx 4 to 5 months delivery)!
Click image to enlarge.
Customize Your Rug
Need a special size? This rug can be made in custom sizes and colors.  Almost anything is possible when it comes to handmade rugs. Give us a call for more information, or send us a note and we'll get started!
Rug Pad
We offer the highest-quality, longest-lasting, and most effective rug pads available. To order a rug pad for this rug base on your floor surface, as well as desired pad thickness, visit our rug pad section.
Related