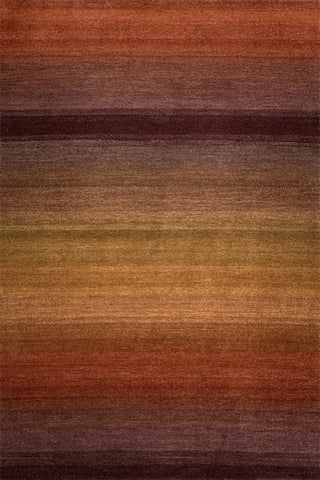 Desert Sunrise
About This Rug 
A 100-knot Tibetan-weave rug, this design is based on the Persian tribal Gabbeh rugs. The gradations of color are very beautiful, running from purples to russet reds and orange. Such a usable rug in it simplicity, it would suit just about any type of decor, from very modern to more traditional. Crafted from the finest hand knotted, hand carded, handspun Tibetan wool. (See What is a Tibetan rug?).
Click image to enlarge.
Customize Your Rug
Need a special size? This rug can be made in custom sizes and colors. Almost anything is possible when it comes to handmade rugs. Give us a call for more information, or send us a note and we'll get started!
Rug Pad
We offer the highest-quality, longest-lasting, and most effective rug pads available. To order a rug pad for this rug base on your floor surface, as well as the desired pad thickness, visit our rug pad section.
Related