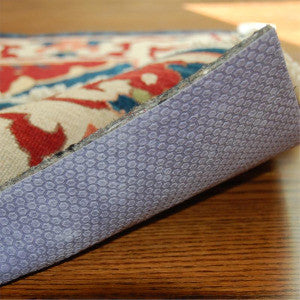 Optimat Rug Pad For Hard Surface Floor
About This Rug Pad
This Optimat rug pad is a high-quality two-ply pad. It has a fiber top and natural rubber bottom designed to go between the rug and a hard-surface floor (wood, tile, concrete, etc.). This premium rug pad grips the rug with its almost velcro-like surface, cushioning the rug and reducing impact on the rug. It's expensive, but it works well and lasts for years.
When ordering a pad for your rug, simply choose your rug size and we will take care of correctly sizing the pad. If you are needing a pad for a rug size that is not listed above, please send us a note with the exact length and width measurements of your rug. 
NOTE: Optimat is manufactured in 6-foot-wide and 12-foot-wide rolls. If you need a pad 4 x 6, the pad will be cut to 4 x 6 out of 6-foot Durahold and you will receive it in one piece. Very neat and tidy. 
If your rug is 3 x 5 and you want your piece to be 2-10 x 4-10, you will receive a piece 2-10 x 6 and will need to cut it down to 2-10 x 4-10. You will be charged for the full 6-foot width. If your rug isn't exactly 6 feet or 12 feet in either direction, there will be pad left over. Sometimes customers have other rugs they can use the extra piece for, say, a runner or small rug. 
ADDITIONAL NOTE: Since UPS only takes packages up to 9 feet in length, if your rug is wider than 9 feet, the pad will come to you in more than one piece. For example, if you have a rug that's 10 x 14, you will receive two pieces totaling 12 x 13-8 (or the exact length you need for your rug). We recommend taping the two pieces together on the rubber side with duct tape, which performs very well, and then you will cut approximately 2 feet off of the width to make a pad 9-8 x 13-8. 
Since pad is custom-cut, there are NO RETURNS for any of our padding.
About Rug Pad Sizing
Because our rug pads are manufactured in rolls, we custom-cut the pad for you to the inch. We want the rug to lap over the edge of the pad, we normally cut it 2 to 3 inches smaller in each direction than the actual size of the rug. This is the proper way to pad a rug, hiding the pad from the eye while keeping the edges of your area rug on the floor.