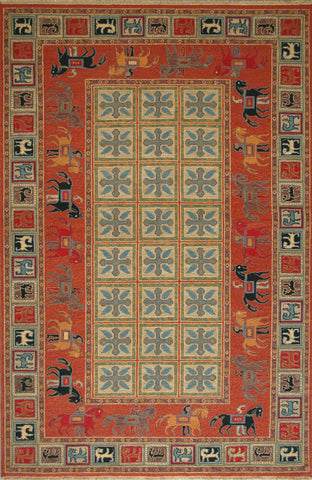 Pazyryk Soumak
The design of this modern soumak rug is actually very historic. It is based on the oldest known carpet: The Pazyryk carpet, hand knotted around 500 B.C. The original Pazyryk carpet is housed in the Hermitage Museum in Saint Petersburg, Russia. It was found, well preserved, in Siberia in 1949. This sturdy soumak is made of wool on a cotton warp, is not as thick as a knotted rug, and is reversible. Made in many standard sizes, it may also be custom-ordered any size.
Need a special size? This rug can be made in custom sizes and colors.  Almost anything is possible when it comes to handmade rugs. Give us a call for more information, or Send us a note and we'll get started!
We offer the highest-quality, longest-lasting, and most effective rug pads available. To order a rug pad for this rug base on your floor surface, as well as desired pad thickness, visit our rug pad section.
Related