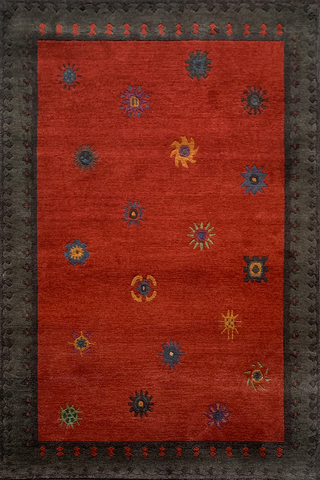 Sol (spice)
About This Rug
This marvelous and extremely versatile rug has been a best-seller at A Rug For All Reasons. Its classic look and contemporary organic design makes it a natural for many of todays more casual homes. Imagined by Utah artist Laurie Downing, it was woven in Nepal by master Tibetan weavers with handspun Tibetan wool (see "What is a Tibetan Rug?"). It has an absolutely gorgeous texture and feel, and is also available in 4', 6', 9' and 11' rounds.
Also available in Sage, Moss, and Stone.
Click image to enlarge.
Customize Your Rug
Need a special size? This rug can be made in custom sizes and colors.  Almost anything is possible when it comes to handmade rugs. Give us a call for more information, or send us a note and we'll get started!
Rug Pad
We offer the highest-quality, longest-lasting, and most effective rug pads available. To order a rug pad for this rug base on your floor surface, as well as desired pad thickness, visit our rug pad section.